Chelsea Flower Show medals made in Birmingham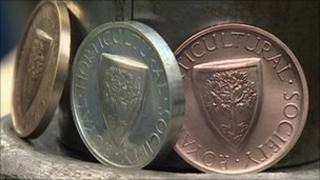 Prize-winning gardeners at the world-famous Chelsea Flower Show will be presented with medals that have been crafted by a company in Birmingham.
They have been made in the city's Jewellery Quarter by Toye Kenning & Spencer.
The company, which is over 320 years old, has been making medals for the Royal Horticultural Society (RHS) for 34 years.
This year's RHS Chelsea Flower Show opens on Monday.
The medals are stamped from hand-engraved dies, then go through a process that includes mounting and polishing by the firm's craftspeople.
Some are enamelled by hand or have images painted onto their surface.
Chief executive Fiona Toye said: "Every winner of a Royal Horticultural Society Medal has worked hard over many months or even years.
"They treasure the medals they are awarded, whether it is gold, silver or bronze and so we make sure each one is manufactured with care and attention."