Elvis impersonator sentenced for guitarist's son attack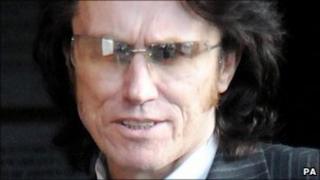 An Elvis impersonator who attacked the son of the real star's guitarist at a tribute act convention in Birmingham has been given a suspended sentence.
Michael Cawthray, 43, punched and kicked Jeff Burton, James Burton's son.
The attack, which happened at the European Elvis Championships, left Mr Burton with a fractured nose and bruising to his face and body.
Cawthray, of Rhos-on-Sea, north Wales, had thought Mr Burton was "trying it on" with his wife.
At Warwick Crown Court, sitting in Leamington Spa, he was sentenced to a 12-week prison sentence, suspended for a year.
The attack happened in January after Cawthray, of Ebberston Road East, found his wife leaving the 48-year-old performer's hotel following the championships.
'Trying it on'
Prosecutor Mohammed Hafeez told the court Cawthray arranged for Mr Burton to come from the US to perform and stay over in a hotel.
After the concert, on 8 January, Mrs Cawthray went to Mr Burton's room to thank him.
Mr Burton then decided to have a shower, and Mrs Cawthray left, Mr Hafeez said.
Cawthray, who had been looking for his wife, found her leaving the bedroom and spotted Mr Burton not wearing a top, the court heard.
He was ushered away by his son but returned minutes later.
Mr Hafeez said that as Mr Burton opened the door again he was kicked, punched and left with a broken nose and bruises around his face, shoulders and body.
'Nothing inappropriate'
He told police he was scared, being stuck in a country "with no place to go" and was also worried about permanent damage.
Cawthray later told police Mr Burton had been "trying it on" with his wife and he had felt hurt, the court was told. He also told police he had not seen anything inappropriate between Mr Burton and his wife.
Cawthray previously pleaded guilty to one count of assault occasioning actual bodily harm.
He was ordered to do 80 hours of unpaid work, to pay £750 compensation and £1,370 court costs.