Ask Alfie tells BBC WM Introducing about his music mix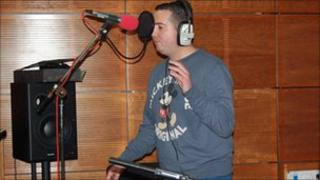 Birmingham singer songwriter Ask Alfie says he has been mixing in different types of music with his original hip hop sound.
The Bartley Green-based artist said he was combining hip hop with indie and pop to try and give "a bit of a unique flavour".
He has got a number of gigs coming up and planning an EP.
Ask Alfie joined BBC WM Introducing in the Mailbox studios for a live music session with his two new band members.
Mixing it up
Ask Alfie said he was probably at high school when he first got into music and would scribble down lyrics on bits of paper.
"That progressed to recording in a professional studio and then that's when the hip hop started, doing mix tapes and putting them around Birmingham," he said.
As he listened to more and more music, he decided to use more genres "mixed in together".
Another change for Ask Alfie was working with two bandmates because he said with his hip hop, he would be performing with just a backing track.
As far as plans for an EP were concerned, Ask Alfie said as a band they were going to re-record some demo tracks that he had laid down and were hoping to get it out by the end of the year.
He told BBC WM Introducing presenters Louise Brierley and Brett Birks that he was also trying to get on some festival bills.
"I really do like the unsigned festivals because you get to see a lot of other bands and soak in all the music.
"That's a big thing that I do enjoy, the festivals, so I would like to get on a few of those," he said.