Domesday Reloaded: Mental asylums to care in the community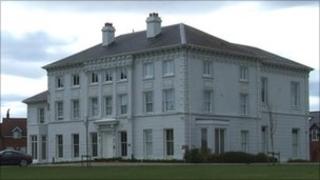 "Monyhull Colony for epileptics and the feeble minded", as it was originally known, was once home to 1,400 people with learning disabilities.
As part of BBC Domesday Reloaded (which shows a snapshot of life in 1986), Reverend Sior Coleman, leader of the chaplaincy team at Monyhull since 1986, gives his perspective on changes that saw 'Care in the Community' introduced.
Sior recounts changes
I've seen a dramatic change at the site in Kings Norton over the last 25 years, and even in 1986 things were changing.
Where there were once large wards, treatment centres, a church and Monyhull Hall itself, the site has been transformed into a large housing estate with a handful of purpose-built bungalows.
Institutions like Monyhull were originally set up for the protection of vulnerable people, hence the word asylum. But new ways of understanding how the needs of people with learning disabilities could be met, led to changes in the philosophy of care.
Practices which seemed acceptable half a century ago are no longer acceptable and this led to significant changes on the site.
My friends with learning disabilities now have a very different lifestyle to that which was experienced in the "old days".
They were not bad days, but having a bedroom you can call your own, in a unit with five other people, is a far cry from the traditional Florence Nightingale ward with upwards of 50 permanent residents separated only by a screening curtain.
This change came about through a developing policy of 'Care in the Community' and the realisation that few of our residents needed what used to be viewed as custodial care.
From the 1950s many residents were "informal admissions" rather than "certified" and increasingly individuals moved into group homes in the community, often finding worthwhile jobs and developing a growing sense of self esteem.
Integration
Some became well integrated into their communities, and the genuine concerns and misplaced suspicions about people with learning disabilities began to disappear.
The huge open spaces at Monyhull were no longer needed and the land was developed to provide mixed use housing, with 600 flats, starter homes and larger family units.
The original Monyhull Hall was retained (becoming apartments), as was the church building. New purpose built bungalows were set up for former residents whose needs were more complex.
As time has passed, rather than 'Care in the Community', the community has come to live with Monyhull's former residents.
Redeveloping the site has meant positive opportunities for many, but there is a price to pay. There's a sense of loss of space. It does feel like a cramped site and there are inevitable restrictions on freedom.
In the past residents were able to range across the site, safe and with space to "be themselves". Now that space no longer exists.
At the same time, for some who have left, networks of friendship have been dislocated and care in the community cannot always provide the specialised services which some need. Independent advocacy is often needed for those who cannot always speak up for themselves.
Yet, on balance, the benefits for residents reflect improving care by very dedicated teams.
Residents now have more of the rights which most take for granted, and sometimes, those rights mean they too must experience the real world with its challenges, its opportunities and its changes.