West Midlands thunderstorms higher than expected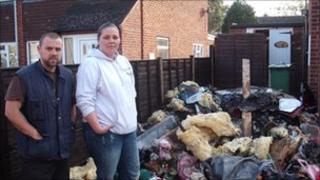 The West Midlands is experiencing more thunderstorms than expected, according to a weather expert.
John Wright, from Birmingham University's Atmospheric Research Centre, said the storms were causing more damage than usual.
In recent days several fires have been started by lightning including at a disused pub in Staffordshire, a farm in Worcestershire and a Shropshire home.
Mr Wright, a senior research assistant, predicted more stormy weather ahead.
He said: "The thundery situation is caused by atmospheric conditions from a severe upward air current.
"It is unstable at the moment so we could get more storms today or in the next few days.
"If you've got thundery activity there's likely to be a cluster of lightning strikes.
"It so happens that they are causing rather more damage than usual."
He said thunder storms were more frequent in warmer areas with the South East getting most of the wild weather at around 15 days of storms a year.
In the Midlands there was an average of 10 a year but in Scotland it could be as few as three.
"There are more storms in the West Midlands this year than we'd expect," he said, although he added it was down to luck whether lightning caused any damage.
On 9 May lighting caused a severe fire at the empty Wheatsheaf pub in Coton, near Stone, in Staffordshire.
A spokeswoman for Staffordshire Fire Service said: "Although lightning strikes are not unheard of they are not a common occurrence. It is quite rare for it to strike a building and to cause a fire.
"When we get a thunder storm we don't normally see buildings struck by lightning and fires starting."
'Spectacular fashion'
In Shropshire a house was badly damaged when it was hit by lightning on 9 May.
Keelie and Scott Caudwell were at home with their two children in Bayston Hill, near Shrewsbury, when the bolt struck but nobody was hurt.
On 6 May a fire at a Worcestershire farm is believed to have been caused by a lightning bolt.
Several vehicles at the farm in Inkberrow were damaged by the fire.
In Wales doctors said they were amazed that a 10-year-old girl hit by lightning on 9 May returned to school the next day.
Erin Moran, of Merthyr Tydfil, south Wales, was struck while watching the storm from her bedroom window.
On the same day a supermarket in Herefordshire had to be evacuated when part of its roof caved in during a hailstorm.
Customers were asked to leave Morrisons in Leominster on Monday evening.
A shopper said water was pouring through the ceiling.
John Thornes, professor of applied meteorology at Birmingham University, said storms often follow periods of dry weather like the West Midlands has experienced recently.
He said: "They often come when a dry period comes to an end.
"The fact it is striking buildings rather than trees in this spate of storms is not something I've come across before but I can't think of anything different about them. It has ended the drought in spectacular fashion.
"The old adage that nature balances out often seems to happen so we see drought followed by heavy rain."