Solihull Lib Dem MP Burt wants new Clegg leadership style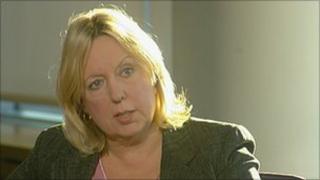 A leading Lib Dem has called on Nick Clegg to change his presentation style after the party's heavy defeat in local elections and the AV referendum.
Lorely Burt, MP for Solihull and chair of the Lib Dems in Parliament, said she wanted to see more emphasis on his role as the party's leader.
She told the BBC Politics Show in the West Midlands that he had done an "excellent job."
She also rejected calls for an end to the coalition.
"What I would wish him to do now I think is to present himself (differently)," she said.
'Can't trust coalition'
"He's not just the Deputy Prime Minister he's our leader and we want to see him a little bit more in that leadership role of the party and I think that would be helpful to a lot of Lib Dems," she added.
The Lib Dems had run Solihull Council in partnership with Labour until last week's local elections when it was taken by the Conservatives.
They also campaigned for a Yes vote in the referendum on the Alternative Vote but voters in the West Midlands delivered an even stronger No vote than the national average.
Despite the set-backs for the party, Mrs Burt rejected calls from some councillors for an end to the coalition saying it would be "business as usual".
Chris Pincher, Conservative MP for Tamworth, agreed that it "really is business as usual".
"Nick Clegg said so, Chris Huhne said so, Vince Cable said so, Lorely said so," he said.
"Once the hullabaloo of the campaign dies down, once we get back to Westminster we will be working in the national interest," he said.
Steve McCabe (Lab) Birmingham Selly Oak said his party had done well in the region in the local elections picking up councils in Stoke-on-Trent, North Warwickshire and Telford & Wrekin but admitted his party had been split over AV.
"The result showed what's wrong with the coalition - you can't trust it," he said.
"They say it's in the national interest but actually it's in David Cameron's interest.
"If the Liberals didn't know that before, they know it now."