Labour gains seats on Birmingham City Council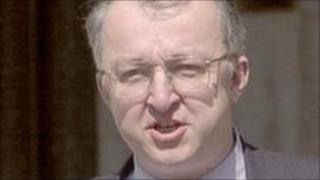 Labour now holds 55 seats on Birmingham City Council, putting it 16 seats clear of the next biggest party.
The Conservatives and Liberal Democrats lost six and seven seats respectively but remain in power as a coalition with a total of 63 seats between them.
Police have been investigating reports ballot boxes for Harborne arrived for counting with security seals missing.
An 82-year-old woman and a 52-year-old man were arrested and released on police bail pending further inquiries.
Fire at school
The woman is from Edgbaston and the man from Oldbury.
Detectives were investigating reports that ballot boxes from the Moor Pool Hall polling station in Birmingham arrived at Woodview School, Edgbaston, for counting with the security seals missing.
The circumstances were not yet clear, and police and election officials were working to establish the full facts before deciding on any further action.
Woodview School was being used for counting following a fire at Harborne Primary School on 27 April.
Police said reports being circulated in the media suggested an election official was mugged en route to the count, but initial inquiries pointed to that not being the case.
Candidates have 21 days to challenge the results of the local elections, the council has said.
In a joint statement the police force and the city council said: "The law states the council has to count and declare a result - it is then up to individuals or parties to make a decision on whether to challenge a result through the courts."
Officially the Labour Party has had 55 seats declared in its favour, which is an increase of 13.
The Conservatives have 39 seats, the Liberal Democrats 24 and the Respect Party two, after losing one seat.
Forty seats were contested in total.
'Not fair at all'
Shortly after the polls shut at 2200 BST on Thursday, Yardley's Liberal Democrat MP John Hemming predicted it would be a "bad night" for his party.
He said it was "not fair at all" that good councillors would lose their seats due to public anger at the coalition government.
He said if was anyone to blame in the city, it was him as an MP.
The council's Lib Dem deputy leader Paul Tilsley has retained his seat in Birmingham's Sheldon ward with 2,971 votes, although his majority has approximately halved since the last election.
He has been a councillor since 1969.
Elections also took place for a third of seats at Labour-controlled Wolverhampton and Sandwell councils and at Conservative-led Walsall and Dudley.
In Wolverhampton, Labour held onto control with 35 seats, gaining four. The Conservatives have 22 and Lib-Dems have three seats.
The Conservatives held control at Dudley, although former leader Anne Millward lost her seat to Labour candidate Stuart Turner by two votes.
Labour stayed in control at Sandwell, gaining an extra seat.
The Conservatives gained control of Solihull Council by winning six seats. It had previously been under no overall control.
In Walsall, the council has gone to no overall control after being Conservative-run.
The party lost five seats taking it to 28, with Labour gaining eight, now having 26.
The Lib Dems lost one seat taking their total to five.