Sculpture Wigan's microscopic royal wedding tribute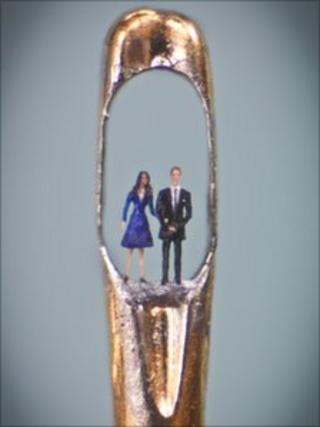 A microscopic sculpture of Prince William and his bride-to-be Kate Middleton is on display in Birmingham.
The two figures, pictured hand in hand, are so small they have been placed in the eye of a needle.
Birmingham artist Willard Wigan has unveiled the sculpture which can be seen at the Castle Fine Art gallery at the International Convention Centre.
He said he wanted to make "the smallest, biggest tribute" to the couple on their wedding day.
Other artwork by Mr Wigan include the Obama family and the Moon Landing.
Mr Wigan said he had chosen a pose which was "instantly recognisable" for the couple and had painted them with his own eyelash.