Royal wedding inspires commemorative glass piece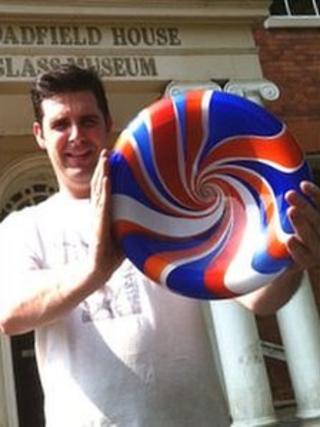 A specially designed piece of glass has been made in the Black Country to celebrate the wedding of Prince William and Kate Middleton.
Allister Malcolm, resident glass artist at Broadfield House Glass Museum in Kingswinford, produced the red, white and blue sculpture.
He said he took his inspiration from street parties and the union jack.
The area around Stourbridge has a history of glass-making that goes back 400 years.
The industry was established in the Black Country in the 17th Century by glass makers from France who came to the area because of its supply of coal and fireclay.
Over the years many pieces of commemorative glass have been made and Mr Malcolm is continuing the tradition.
He said it was quite a "daunting prospect" and after much mulling over, he decided to base it on a street party theme and people waving the union jack.
"I thought that would be a nice, fun sort of way to make a commemorative piece to link in with the royal wedding," he added.
'Bold and dramatic'
After weeks of planning and tests, the actual piece took about 24 hours to make and Mr Malcolm worked with the glass at temperatures of over 1,000 degrees Celsius.
"You just can't reproduce things spot on with hot glass that's moving and molten at that temperature," he said.
"We had loose drawings of what I had in mind and I wanted to play with the fact that I knew the glass would distort and move the pattern work around a little bit, so we kind of emphasized that by twisting it up a bit."
The plan is to inscribe the glass with Prince William and Kate Middleton's names and the date of the ceremony.
Mr Malcolm said: "I wanted it to be as bold and dramatic as the day's events will be."
Meanwhile, the Red House Glass Cone in Wordsley is putting on a display of royal commemorative glass from the past and present.
Pieces have been loaned from Broadfield House and the collection of Jim Edgeley and Eva Frumin.
The display includes pieces from the reign of Queen Victoria, the coronation and abdication of Edward VIII and the wedding of Prince Charles to Lady Diana Spencer, as well as pieces made to mark the latest royal wedding.