Stabbed schoolgirl Chloe West released from hospital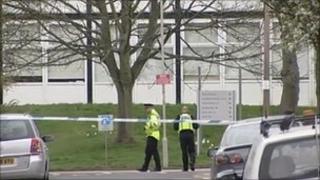 A 14-year-old girl who was stabbed outside her school on Friday has been released from hospital.
Chloe West suffered serious wounds to her upper body and face in the stabbing near the gates of Ridgewood High School in Wollaston in the West Midlands.
Earlier, her parents thanked those who came to her aid and detained her attacker.
Police have been given further time to question an 18-year-old man arrested on suspicion of attempted murder.
The man, from the Sedgley area in the West Midlands, was arrested at the scene.
'Horrific attack'
Witnesses said a man drove up to Chloe at about 0840 BST on Friday and leapt out of the car before pushing her to the floor and stabbing her.
She had been treated at Birmingham Children's Hospital where her parents earlier said she was making a good recovery.
Nigel and Rosemary West said bystanders who came to their daughter's assistance had prevented her suffering further injuries in the "horrific attack".
They said: "We would like to thank all students, parents and teachers who helped Chloe at the scene.
"Without their help, Chloe would have received even more injuries.
"We do not know the names of all those who helped but we look forward to meeting them as soon as we can.
"We'd also like to thank the emergency services who responded so quickly and gave Chloe the very best of care, both at the scene and at the hospital."
'Memories remain forever'
They said the surgeons had done a "remarkable job" of closing Chloe's wounds and were confident of a good recovery.
"However, whilst the physical scars may fade, the memories of the day's events will remain forever," they added.
West Midlands Police have also praised members of the public for their bravery in intervening in the incident.
The force has confirmed the arrested teenager, who also underwent treatment for injuries to his hands, is not a pupil at the school but was known to Chloe.
The school was closed for the day following the incident.