Midland Metro extension to New Street is a step closer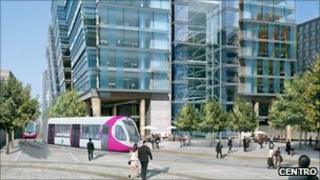 A £3.19m bridge which will take the Midland Metro into the heart of Birmingham has been completed.
The bridge over Great Charles Street Queensway is described as a key part of the Metro extension.
The line from Wolverhampton currently terminates at Birmingham Snow Hill but will continue on to New Street station.
Transport chiefs say trams should be running on the 1.3km (0.8 mile) extension through the city centre by 2015.
Metro 'milestone'
Metro services will come off the existing approach to Snow Hill station and over a new viaduct.
The trams will then follow a route down Upper Bull Street, Corporation Street and on to Stephenson Street before terminating at New Street station.
Centro, the West Midlands integrated passenger transport authority, said that the extension plans would create 1,300 sustainable new jobs and boost the region's economy by £50m a year.
Chief executive Geoff Inskip said the completion of the bridge was a "very important" milestone in the project to open up the city centre to the tram network.
"This is a major step forward for a scheme that is going to bring massive economic benefits for the entire region and create thousands of jobs," he added.
Design work for the on-street section of the extension is under way and Centro expects preliminary site works to start in 2012.
Mr Inskip said: "[There is] quite a lot of work to do, but by 2015 we should have the trams right the way through the city centre to New Street."