Aston University plans maximum £9,000 fee rise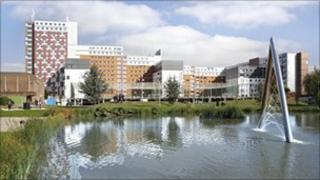 Aston University has announced plans to increase its annual tuition fees up to the maximum level of £9,000 per year.
The Birmingham-based campus institution currently charges full-time EU or UK undergraduates £3,290 per year.
It said its graduates were ranked among the most successful in the UK at gaining graduate level work, greatly helped by its work placement schemes.
It said the fee rise meant it could increase placements. The Office for Fair Access has yet to approve it.
State schools
A university spokesman said about 60% of students took part in work placements, but the university would like to increase participation further among science students.
The National Union of Students (NUS) has opposed any increase in tuition fees on the basis it could limit access to an elite who could afford it. The NUS has called instead for a graduate tax.
Professor Julia King, the university's vice chancellor said: "At Aston we believe in the power of higher education to deliver social mobility and to transform people's lives.
"In comparison to other top 40 UK institutions in the Times University Guide, Aston combines the highest percentage of students from the lowest socio economic groups with the fourth highest percentage of students from state schools.
"We are strongly committed to attracting talented young people to study at Aston, no matter what their financial circumstances or background."
'Financial support'
The university, which has about 9,500 students, said as part of the fee increase, there would also be a "substantial financial support package of bursaries and fee waivers "to ensure no financial disincentive" for students choosing to go to Aston University.
The universities of Oxford, Imperial College, Durham, Exeter, Essex, Surrey, Manchester, Warwick have now said they want to charge the maximum yearly tuition fee.
Also, governing bodies at Cambridge and Liverpool - and according to documents seen by the local press, Leeds - are preparing to vote on proposals to charge £9,000 per year.
Bishop Grosseteste University College in Lincoln became the first university in England to announce planned tuition fees below the £9,000 maximum at £7,500 on Thursday.