Inquiry examines Meriden travellers' site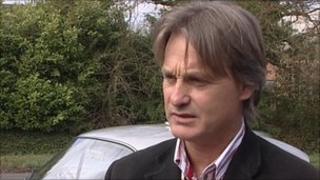 A public inquiry has started into a travellers' site set up on greenbelt land, which prompted nearby residents to keep a 24-hour vigil.
The residents started their vigil in Meriden almost a year ago after travellers moved on to the land.
Last July, Solihull Council rejected an application by the travellers to develop the land that they own.
Local Government Secretary Eric Pickles has said he will make a final ruling after the two-week inquiry in Meriden.
'Inadequate access'
The inquiry will look into an appeal by the travellers lodged against the council after its decision to refuse them retrospective planning permission.
The travellers started developing the land on 30 April but stopped when residents - who have since started a group called Residents Against Inappropriate Development (RAID) - began a 24-hour picket.
The travellers applied for 10 permanent pitches on a field in Eaves Green Lane.
But the council said it broke greenbelt regulations and had inadequate traffic access.
Speaking ahead of the inquiry, Noah Burton, the appellant who prompted the inquiry, said: "The good thing about this being a public inquiry and such a high profile public inquiry with such an experienced inspector here is that this guy will do his job."
A barrister representing the council told the hearing, being held at a social club in Meriden, that the travellers' actions had been a "cynical attempt to steal a march on the planning system".
The legal representative for the travellers said it was "unauthorised but not illegal" and blamed the consistent failure by local authorities to provide suitable sites.
David McGrath, from RAID, said: "Our case is in good shape.
"This is clearly an unsuitable development that was done in a way as to steal a march on the planning process.
"It wrecks the rural amenities of the area and there is a raft of reasons why it shouldn't continue."