Street pastors ready to patrol in Walsall town centre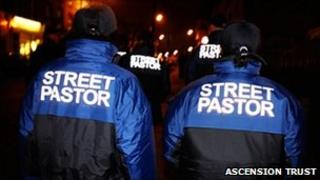 A new Christian initiative aimed at providing a safe environment for revellers in Walsall town centre on Saturday evenings launches on 26 March.
Street Pastors is a national initiative which has already been introduced in more than 150 towns and cities across the country.
The street pastor volunteers are recruited through local churches.
Their role is to help tackle anti-social behaviour on the town centre streets.
'Show we care'
The pastors will operate independently but will work closely with Walsall Council and police.
The initiative also ties in with the work being undertaken by Safer Walsall Partnership, which has seen a 20% drop in anti-social behaviour in the town in the past year.
The partnership is made up of various agencies including Walsall Council, West Midlands Police and West Midlands Fire Service.
Costs of the scheme are being met through fundraising by the churches and grant applications.
Street Pastors co-ordinator Mark Desorgher said: "Street Pastors is a great way for us, as a church, to get out into the community to show that we care.
"Our aim is to help the local authorities and the emergency services make Walsall a safer place to go out at night.
"This is achieved by practically helping wherever we are needed, for example, making sure that people get to a taxi safely, tending to someone passed out on the ground, diffusing a potentially volatile situation, handing out footwear to women who have taken off their shoes for the long walk home or just simply providing a listening ear for someone."
The pastors will be based in the town centre and will be out and about on Saturdays from about 2200 GMT to the early hours of Sunday morning.