Lozells knifeman 'confessed to Young-Sam stabbing'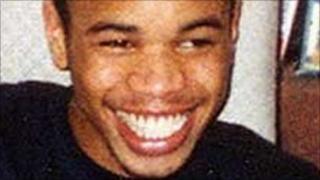 An Asian man accused of murdering a black man during disturbances in Birmingham "confessed" the crime to friends, a court has heard.
Isaiah Young-Sam, 23, suffered a wound to his chest during disorder in Lozells on 22 October 2005.
Mohammed Shazad, 28, of Handsworth, Birmingham, denies Mr Young-Sam's murder and manslaughter.
Prosecutor Mark Wall QC told the court Mr Shazad told his friends he was responsible for the stabbing.
Mr Shazad, of Holly Road, also denies wounding one of Mr Young-Sam's friends.
'Empty promise'
Mr Wall told a jury at Birmingham Crown Court Mr Shazad confessed to the killing while travelling to Huddersfield with friends following Mr Young-Sam's death.
He said he had also told his friends that he would hand himself in to police if any of them fell under suspicion for the act.
Mr Wall said that was an "empty promise" as three of the men who travelled to Huddersfield were later charged, but cleared, of offences relating to the attack.
Conversations took place between Mr Shazad and two witnesses, one of whom will claim he was waiting for the outcome of the previous trials before coming forward, he said.
Mr Wall said the prosecution were claiming Mr Shazad was the knifeman because he told people so.
'Rising tension'
Mr Young-Sam, an IT worker, had been trying to avoid trouble on the night of the attack, the court heard.
Mr Wall said the killing happened against a background of rising tension between Afro-Caribbean and Asian communities in Lozells, triggered by a rumour that a 14-year-old girl had been attacked by a group of men in a hair and beauty shop in Wellington Road.
"Nobody was arrested for that crime," Mr Wall said. "Police investigated it and they could find no victim and, therefore, the potential investigation petered out almost as soon as it had begun."
But that caused anger among some in the local community, he said, which eventually spilled over into violence following a meeting at a church.
Before the attack on Mr Young-Sam, the jury heard, he was subjected to racial taunts while walking with his brother and two friends, who were also trying to avoid danger by walking along a back street.
The trial, which is expected to last for four weeks, has been adjourned until Friday.