Birmingham family's concern after Japan quake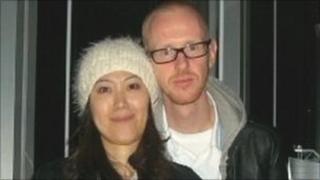 The family of a Birmingham man in Japan say they are anxious about his safety as they have not heard from him following the earthquake and tsunami.
Brian Hickebottom, 34, lives in the city of Tagajo, about seven miles from Sendai, with his Japanese wife, Sanae, and their baby daughter, Erin.
His sister, Emma Hickebottom, who lives in Cardiff, said it was a tough time for the family.
Police warned the death toll in the Miyagi region alone could top 10,000.
'Distressing'
Mr Hickebottom's sister said at the time he would have been at work as far as she knew, as an assistant English teacher in a school.
"His wife and his daughter obviously would be at home, so that's also distressing to think that they were separate.
"I've tried to contact him by text, email, Facebook. I've also been in touch with the Foreign Office.
"My parents are meant to go over in two weeks' time to visit, as my brother and his wife have just had a new baby about six months ago, so they're off to see their granddaughter."
She added that her brother, who has lived in Japan for about four years, has been working at three schools on different days.
"I'm trying as much as I can to stay positive and there's only so much information I can get obviously.
"I understand that everyone's trying to find information out and the Foreign Office are doing the best they can, but it's just having to wait."
Japanese broadcaster NHK said the total number of confirmed deaths caused by Friday's disaster stood at 1,351.