Active speed cameras in West Midlands 'will halve'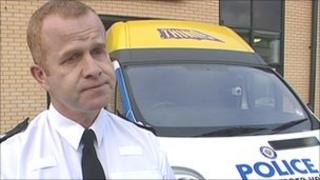 The number of active fixed speed cameras across Birmingham, Coventry and the Black Country will be halved from April, it has emerged.
It was thought they would all be switched off after a 50% reduction nationally in road safety budgets.
But West Midlands Police said it would pay more than £1m to keep them running despite having to cut 2,000 jobs in the next four years.
From April there will now be 100 fixed cameras operating in the force area.
There are currently 218 operational out of 304, as some were turned off last summer.
'Save lives'
The force said it would also use two mobile camera vans across 19 sites in the West Midlands.
It will be left up to councils to decide if they want to remove the remaining cameras or leave them as a deterrent.
Insp Mick Harthill, from the force, said the cost of one fatal collision was estimated at £1.9m.
"If we can prevent even one, we'll be making a saving already," he said.
"It's more about priorities.
"West Midlands Police believes road safety and casualty reduction is a key priority and they have decided that they will fund the resources for the year ahead."
'Worst black spots'
The West Midlands Casualty Reduction Scheme, which manages the cameras, was funded by seven local authorities in the West Midlands.
But they withdrew their £1.9m funding because of budget cuts.
The authority areas affected by the cuts are Birmingham, Coventry, Dudley, Sandwell, Solihull, Walsall and Wolverhampton.
The Royal Society for the Prevention of Accidents said they would like to see more cameras kept on but accepted the situation regarding budget cuts.
"It's positive we will see the 100 cameras which will be in the worst black spots for accidents and they will help to save lives on our roads."