Swan family rescued from Birmingham park is recovering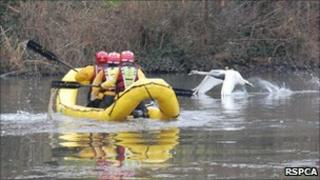 Six swans found covered head to tail in oil are on the road to recovery after being rescued from a Birmingham park.
The RSPCA received reports about the swans, which were seen at Great Park, in Parkway, Rednal, in January.
Inspectors said the family was described as being "in obvious distress" with three of them tangled in fishing line and hooks.
A spokesman said the swans were now doing well and would be released back into the wild soon.
The inspectors were helped during the rescue by the Severn Area Rescue Association.
The spokesman said five of the swans were caught quite easily but the sixth swan proved "more illusive" after flying off when a boat was launched.
After searching the area it was rescued the following day from a football pitch.
RSPCA animal collection officer Sally Tarpey said: "I have never seen swans so badly oiled in 12 years in the job.
"We didn't have much problem collecting the first five swans as they were hungry so we coaxed them over to us with food.
"They were quite subdued and didn't put up much of a fight.
"Collecting the sixth swan involved us invading a football pitch where youths were playing a match after the bird had crash landed."
Sandy Lee, co-owner of Bishopswood Swan Rescue where the bird's are recovering, said: "The birds came to us in an appalling state.
"We believe the swans to be an adult pair along with four of their offspring, two cygnets from last year and two now adult siblings from the previous year.
"The good news is the swans are doing extremely well and are now in one of our outside enclosures. When they are fit and strong enough they will be released back to the wild."