No charges over Yasmin Alibhai-Brown 'stoning' tweet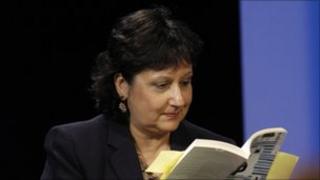 No further action will be taken against a Birmingham Conservative councillor who called for a journalist to be stoned to death.
Erdington councillor Gareth Compton made the remark about Yasmin Alibhai-Brown on his Twitter page in November after she appeared on a radio debate.
Mr Compton, who remains suspended from the Tory party, later apologised.
The Crown Prosecution Service (CPS) has dropped the case after Ms Alibhai-Brown refused to make any complaint.
The member of the public who initially reported the incident to police also failed to provide a statement, the CPS said.
Mr Compton was not available for comment.
'Attempt at humour'
Birmingham City Council and the Conservative Party, which are carrying out their own investigations, said they did not wish to comment.
Ms Alibhai-Brown, who is a regular contributor to the Independent newspaper, appeared on Radio 5 Live's breakfast show discussing human rights in China.
Afterwards, Mr Compton tweeted: "Can someone please stone Yasmin Alibhai-Brown to death?
"I shan't tell Amnesty if you don't. It would be a blessing, really."
He later withdrew the remark describing it as an "ill-conceived attempt at humour".
Speaking at the time, Ms Alibhai-Brown said she had been upset that somebody felt it "was OK" to say such things.
"If I, as a Muslim woman, had said about him what he said about me then I would be arrested in these times of the war against terror," she said.
In a statement the CPS said: "Ms Alibhai-Brown has refused to make any complaint to the police on the matter and the member of the public who initially reported this mater has also refused to provide the prosecution with a statement.
"A file was then submitted to the reviewing lawyer who has carefully reviewed all of the evidence, as well as the fact that we have no statement of complaint, and they have decided there is insufficient evidence for a realistic prospect of conviction."