Rail plans may lead to 1,000 West Midlands jobs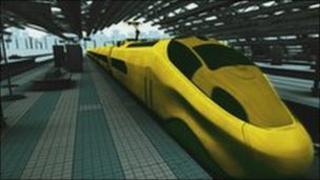 More than 1,000 jobs may be created in the West Midlands as part of development plans for the High Speed 2 (HS2) rail link.
There have been proposals to turn the former LDV site in Birmingham into a maintenance headquarters for the rail line, possibly creating up to 250 jobs.
Birmingham Chamber Group believes other jobs could come to the region as the scheme brings £40m worth of investment.
The new high-speed rail link will run between Birmingham and London.
At least two million trees will be planted along the planned route in a bid to reduce the impact on the landscape, the government has said.
The project has been opposed by residents groups, councils and a number of MPs.
The Woodland Trust said it hoped this was not a token gesture.
Last month, Transport Secretary Philip Hammond announced that about half the planned route had been altered, amid serious concerns about its impact on local communities and the countryside.
Trains would travel at more than 200mph under the plans.