Birmingham Citizens' Advice Bureau set to close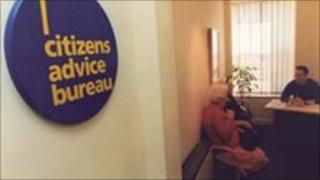 Birmingham's Citizens' Advice Bureau (CAB) offices will close in three weeks unless it can raise £50,000 per month to continue.
The centre says that without the money its five "open door" offices, which provide drop-in advice sessions to the public, will shut on 11 February.
A CAB spokesman said the city council had decided to end its funding, worth £600,000 per year.
The council said it had made it clear funding could not be guaranteed.
Last year, the service helped 56,000 people.
Yvonne Davies, chief executive officer for Birmingham's CAB said: "We simply cannot operate the service without funding."
Ms Davies said Birmingham was the largest Citizens' Advice Bureau in the country, also delivering a hospital outreach service, outlets in children centres and offering specialist advice about debt and welfare benefits.
"Many of the areas serviced by our Bureaux rank as the most deprived in the country," she said.
The CAB's open door service is maintained by money from the city council, she said.
She added the council had decided to cut all funding used to support free and independent advice services.
Instead, the authority is to designate a smaller pot of money open to bids from the organisations which will be allocated in £50,000 blocks. These will not be available until at least August, she said.
'Increased homelessness'
She added the CAB's "only option" was to close the open door service unless it can urgently secure other donations.
"The forced withdrawal of service will result in as many as 56,000 people in Birmingham facing increasing problems without access to independent advice.
"This will include increased homelessness, redundancy, non-payment of benefits, bailiff action, coping with serious illness, social injustice and bankruptcy - with nowhere to go for free, independent confidential advice and advocacy," she said.
The CAB has offices in Birmingham's city centre, Handsworth, Kingstanding, Northfield and Tyseley.
A city council spokesman said the council's Conservative/Lib Dem coalition cabinet had always made it clear that funding was not guaranteed beyond any single year, up to a maximum of three years.
"It was never our intention for agencies to become dependent upon this source of funding, or that it form their sole source of income," he said.
He added the council's contracts with current providers ended in March 2010 but was rolled over until 31 December.
"From 31 December a funded notice period of 90 days was in place to provide some protection for the providers and CAB was paid £150,000 notice payment to enable them to continue to offer services in the interim period."
Meetings are being held with the CAB, he said.