West Midlands Police struggling amid cuts, says Cooper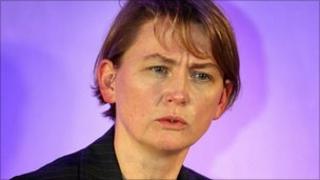 West Midlands Police is struggling to fight crime while it is losing 1,000 police officer posts, the shadow home secretary says.
Yvette Cooper attacked the government over the cuts police forces are facing as she made her first appearance in the House of Commons in her new role.
She referred to local newspaper reports stating a "significant increase" in burglaries in the past nine months.
Total recorded crimes in December were down, a police spokesman said.
Up to 14,435 crimes were logged last month compared to 16,275 for December 2009, the spokesman added.
Earlier this month the force said it was cutting the posts, which equates to about 12% of of its officers.
'Got it wrong'
Speaking in the Commons, Ms Cooper criticised policing minister Nick Herbert over comments she said he had made about there being no link between the levels of police officers and crime.
She said: "However, the Birmingham Mail has reported that some parts of Birmingham have already seen a recruitment freeze, a cut in the numbers of officers in the neighbourhood team and a significant increase in burglaries in the last nine months.
"The local police, who have been put in a very difficult position by the government, have said they are struggling to fight crime in the area as a result.
"Will you stand by your claim or will you admit to the police and the public that you have got it wrong?"
Mr Herbert denied he said there was a link.
"I hope you will not follow the poor example of your predecessor by partially quoting honourable members on this side," he said.
'Significant challenges'
"I did not say there was no link and you should know that.
"Let me instead point out something that was said by somebody I believe you have regular conversations with: 'This is a tighter environment for police spending and would be under any government'.
"That was what the new shadow chancellor (Ed Balls) said to the home affairs committee when he was shadow home secretary."
West Midlands Police, the second largest force in England, pointed to recent figures about crimes in the force area.
A spokesman said there were fewer victims of crime in December than any month since 1981 and calls about anti-social behaviour had fallen to an all-time low at the tail-end of 2010.
Speaking last month, Assistant Chief Constable Gary Cann said: "People know that we face some significant financial challenges, but should be reassured that we are committed to reducing crime and anti-social behaviour in their neighbourhoods."