Birmingham scheme cuts RiverTame flood risk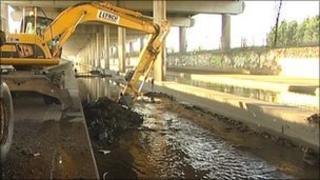 A £380,000 river clearing scheme should reduce the flood risk for many properties in Birmingham, the Environment Agency has said.
Silt and debris have been removed from the River Tame in a project which has nearly been finished.
Work has almost finished at six sites in the area and culverts and other confined spaces along the rive have also been inspected, the agency said.
The scheme has taken more than six months to complete.
John Outram, from the agency, said: "What it means is there's less capacity in the channel for flood flows.
"So it's important to try and restore as much of this as possible, so that we can safeguard the people of Birmingham from flooding."