White children in Birmingham to be a minority - report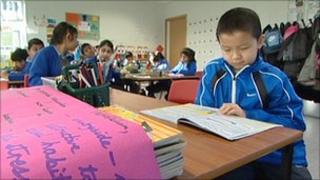 This year's census is expected to show children from white families in Birmingham as a minority group.
A study by the University of Manchester predicted more than half of children under 16 in the city will be from black and Asian communities.
The report puts the number of children from white families at 47%. In 2006, 53% of children under 16 were from white families.
The census is due to be carried out in March this year.
Even though the figure is expected to fall to 47%, children from white families will still make up the largest group. But as other ethnic groups make up more than half, the white children will be classed as a minority.
The report predicts that the proportion of children aged under 16 who are from black and ethnic minorities will rise to about 64% by 2026.
Double the size
The city's total white population is not expected to fall below one half of the total until 2024 and it will remain more than twice the size of any other group.
One reason for the reduction, the report says, is movement out of Birmingham to other areas of the West Midlands and the UK and the continuing immigration of people from Pakistan, African countries and China.
At Chad Vale Primary School, in Edgbaston, pupils speak 20 different languages and a fifth of pupils are white.
Headteacher Robin Haselgrove said Birmingham, as a city, should be proud.
"It has this way of welcoming anyone that comes to the city, it makes them feel cherished and then expects them to contribute to the Birmingham way," he said.
Councillor Alan Rudge, cabinet member for equalities and human resources on the Conservative/Lib Dem coalition city council, said the council would be "lax" if it was not looking at trends.
"A cumulative effect isn't a sudden effect to us. We're working all the time, adjusting the way we deal with things to cope with it," he said.
Department for Education figures from January 2010 show that 43% of children at Birmingham's primary and secondary schools were white - making the group a minority.
The figures show that out of 148,900 local authority school pupils, 63,800 were white.