Lanchester school shut after strike over violence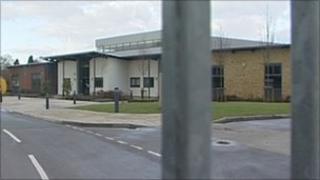 A special school where staff went on strike in protest at violence from pupils has been shut to pupils on a temporary basis, a council said.
Staff at Lanchester School, Castle Bromwich, West Midlands, took action on Tuesday.
Solihull Council said the board governing the school agreed it "has been regrettably de-stabilised".
The GMB has said examples of violence included staff being repeatedly kicked and punched in the face and arm.
'Consultation stage'
The NUT and GMB unions said there had been 62 incidents since September where pupils had been restrained as a result of violent or threatening behaviour.
Solihull Council said the authority decided to close the school on the advice of the Interim Executive Board which currently governs the school.
It added the board agreed that, since the announcement of and subsequent strike action by some staff members, and "heightened by the considerable surrounding publicity", the school had been "de-stabilised".
It was felt that closure was in the best interests of pupils and staff, the council said.
'Planned changes'
It added the necessary steps were "already being taken to ensure minimal disruption" to the education of the young people at the school.
In a statement, the authority said: "The Board and Solihull Council, along with the Executive Principal, will continue with planned changes at the school, including the proposed new staffing structure.
"This structure is currently at the consultation stage. No final decisions have been made and staff are being given every opportunity to express their views.
"We are also in the process of meeting with ACAS in order to resolve this ongoing situation."
Teachers and other staff at the school have said they were taking action to highlight and protect students and staff against attacks.