Test at West Midlands hospitals detects flu in an hour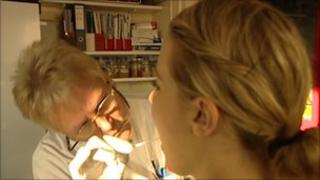 A hospital trust has introduced a test which can determine within an hour what kind of flu a patient has.
Sandwell and West Birmingham Hospitals NHS Trust is using the Xpert Flu test, which can detect and differentiate between winter flu and swine flu.
The trust said the previous test could only be run once a day, as it requires a number of samples which are then tested in batches.
The Xpert Flu test can be run "on demand" a spokesman said.
Dr Beryl Oppenheim, director of infection, prevention and control at the trust said clinicians had been able to make treatment decisions in a shorter space of time, thanks to the test.
"The lab has been running tests on all admitted patients with suspected flu and where influenza has been detected, we have been able to isolate and treat the patient promptly," she said.
The test had also helped people who do not have flu as further inquiries into their symptoms could start straight away, she said.
The test is carried out by taking a swap from the nose and mouth and is being used at Birmingham City Hospital, Rowley Regis Hospital and Sandwell General Hospital.