Birmingham children's director suspended 'over leadership'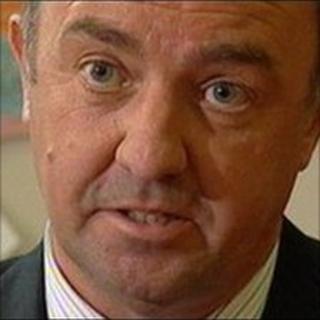 The director of Birmingham's children's social care department was suspended over concerns about leadership of the service, it has emerged.
The city council has confirmed Colin Tucker has been suspended from his post.
It has not given a reason why but said it was not directly related to the death of two-year-old Keanu Williams at the weekend.
Khalid Mahmood, MP for Perry Barr, has said the government should intervene.
The Labour MP said the government should step in to take over the council's children's services department.
'Generally unresponsive'
Mr Mahmood said: "When we consistently have young children dying there is a real issue for us to deal with this.
"The objectives of these people are to stop that happening and when they can't do that I think we have to bring someone in from the outside to deal with it," he said.
John Hemming, the Liberal Democrat MP for Birmingham Yardley, said of Mr Tucker: "I had raised a number of concerns about some issues and found him generally unresponsive.
"I had to involve the chief executive to get him to respond at all."
The BBC was informed of Mr Tucker's suspension in an e-mail from Eleanor Brazil, Birmingham's transitional strategic director for children, young people and families.
Poor performance
She performed the same role at Haringey Council in the wake of the death of Baby Peter.
Mr Tucker joined the council, run by a Conservative/Lib Dem coalition, in 2009 from neighbouring Sandwell Borough Council.
In December 2010, government inspectors listed Birmingham as one of 12 councils across England performing poorly overall in providing children's services.
In July 2010, Ofsted said the council was failing to protect vulnerable children and judged that its capacity to improve was inadequate.
In January 2009, it was announced a government intervention team was to work with Birmingham social services after eight children known to the department died within three years.
Among the eight cases was that of seven-year-old Khyra Ishaq, from Handsworth, who starved to death in May 2008.
Her mother, Angela Gordon, 35, and ex-partner Junaid Abuhamza, 31, were jailed in March 2010 for her manslaughter.