Birmingham girl aged three dies from swine flu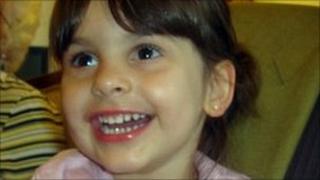 The mother of a three-year-old girl from Birmingham who died from swine flu has criticised the government for not making the vaccine available to all.
Lana Ameen died in a Liverpool hospital after being treated at a hospital in Stockport, Greater Manchester.
She had had no known underlying health problems and died just two days after developing symptoms, her family said.
Her mother, Gemma, said she wanted the government to change its policy and allow everyone to receive the vaccine.
'Appropriate treatment'
Those currently eligible are in "high-risk" groups, which include over-65s, pregnant women, and people of any age with long-standing health conditions such as asthma.
Mrs Ameen, whose family had been visiting relatives in the North West over Christmas, said: "I don't know how they can say that my child wasn't worth a few pounds worth of vaccine that could ultimately have saved her life.
"Just because she's a healthy child, doesn't mean she can fight it off.
"Not everyone who's been healthy has been able to fight it off and that was the case with Lana - she couldn't fight it."
In a statement, Stockport NHS Foundation Trust said it had started a senior case review of the treatment provided at Stepping Hill Hospital during Lana's two visits to the emergency department.
"To date, that review has identified that Lana received appropriate treatment and care in a timely fashion," a spokesman said.
"Whilst at Stepping Hill Hospital Lana received all the care that could be provided by our own paediatric, intensive care, emergency department staff and the regional intensive care team.
"In spite of our interventions, Lana's health continued to deteriorate until her death at Alder Hey which is part of the North West Paediatric Intensive Care Network.
"We will extend an invitation to the family to meet with senior clinical staff to discuss the treatment provided to Lana and their obvious concerns."
The number of deaths this winter from flu verified by the Health Protection Agency (HPA) is currently 50, with 45 of these due to swine flu.
'Get it done'
A spokesman for the Department of Health said the advice on vaccine availability remained the same.
He said: "The flu vaccine should be used to protect children from six months upwards who are in at-risk groups, and experts do not recommend the vaccination of children who do not have risk factors."
Lana's father, a registrar at Good Hope Hospital in Sutton Coldfield, is currently with family in Kurdistan.
Mrs Ameen, from Wolverhampton Road South, in Quinton, who is expecting another child, urged other parents to get their children vaccinated.
"Get them vaccinated... in any way you can, even if you have to pay for it now," she said.