'Kidnapped' Birmingham men missing in Pakistan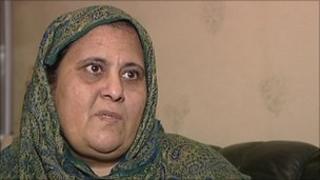 Two Birmingham men who were visiting Pakistan have been kidnapped, family members say.
Zafran Jamil, 34, of Bordesley Green, went to Peshawar five weeks ago. He has not been heard from since 21 December.
His mother, Zahida Parvin, said she had spoken to the family of Zahid Mohammed, also missing, who said they had heard that the men had been kidnapped.
A third man is also thought to be missing. The Foreign Office said it was investigating.
Peshawar is a district in north-western Pakistan, near the border with Afghanistan.
The men had been meant to be on holiday and were thought to be staying with Mr Mohammed's family.
Mrs Parvin told BBC's Midlands Today programme that she had been told a ransom of 2m rupees (£28,320) was being demanded.
She said she had been to the Birmingham home of Mr Mohammed's family to make inquiries, as she did not know the identity of the third man thought to be missing.
"I spoke to his (Mr Mohammed's) father," she said.
"I ask him did you hear from your son and he told me no, he had not heard from him either.
"He is the one who told me they had been kidnapped in Pakistan and they are asking for a ransom."
The Foreign Office has said it was investigating reports of missing British nationals in Pakistan.