Workers help clear Birmingham waste collection backlog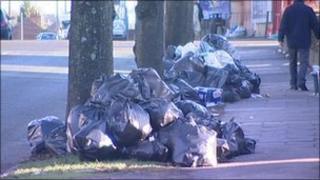 More than 1,000 tonnes of household rubbish was collected in Birmingham over the weekend in an effort to clear the backlog, the city council said.
Bad weather, Christmas disruption and industrial action by the binmen has led to some people in the city having no collections for up to a month.
Binmen are in dispute with the council over plans to change their contracts.
More strikes are planned for Thursday and Friday but the council said it had contingency plans to cope.
The refuse collectors claim proposed changes to their employment contract would amount to a £4,000 pay cut.
The council said the changes were necessary to ensure pay equality with female co-workers at the council.
Council binmen began working to rule on 22 December as part of a long-running pay dispute.
Casual crews have been clearing rubbish daily since 27 December, but there was more work to be done to clear the backlog, the council said.
Despite hiring casual crews the council said it had saved money on bin collections during the festive period.
It said the permanent staff's work to rule action meant the council had not had to pay binmen triple time to work during the Christmas and New Year bank holidays.