Land Rover sees 28% rise in sales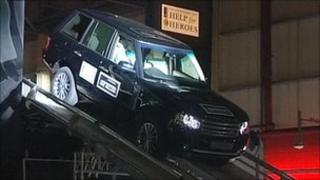 Sales of Land Rover vehicles were up by 28% compared to 2009 figures, the Society of Motor Manufacturers and Traders (SMMT) said.
Land Rover, which has plants in the West Midlands and Halewood near Liverpool, produced its millionth Range Rover last November.
Sales of vehicles produced by Aston Martin, based in Gaydon, Warwickshire, were down almost 9%, SMMT said.
Jaguar, which ceased production of its X-type in 2009, saw about a 10% drop.
Sales of the model are included in SMMT figures, Jaguar said.
'Prestige brands'
Overall, total car sales grew by 1.8% in 2010 from the previous year but SMMT predicted sales of new cars in the UK are set to fall by 5% in 2011.
Land Rover, which has plants in Castle Bromwich near Birmingham and Solihull, said it registered just over 42,000 new vehicles in the UK last year compared to around 33,000 in 2009.
Sales increased across all models - Freelander, Range Rover, Discovery, Range Rover Sport and Defender.
The decision to close either the Castle Bromwich or Solihull plant was shelved last year saving thousands of jobs.
These latest figures provide additional job security for workers, Peter Plisner, BBC Midlands Today business and transport correspondent said.
Jaguar said it saw sales fall from just over 18,000 to almost 16,500 within the last year.
Sales figures from Aston Martin showed a drop from 1,183 in 2009 to 1,080 in 2010, SMMT said.
Mike Stevenson, from KPMG, said Land Rover had a strong range of vehicles, with sales boosted by two freezing winters.
He said: "They've got an incredibly strong offering and a great global brand.
"It's not just in the UK, Land Rover is selling it overseas, in the US and China."
He said prestige brands and exporters would do well in 2011.
"I think 2011 will be a better one for Jaguar and so for Aston Martin as well," he said.
"The Aston Rapide should sell substantial numbers next year."