Sunday target over Birmingham waste backlog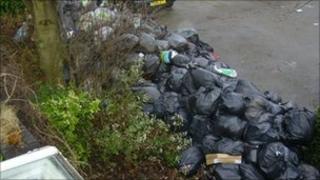 The backlog of rubbish in Birmingham should be cleared by Sunday evening, according to the city council.
Refuse has piled up as a result of industrial action, severe weather and the Christmas break.
Unions representing bin collectors in Birmingham have announced two half days of strike action on 13 and 14 January as part of a pay dispute.
Council deputy leader Paul Tilsley said the authority was up to date when snow came on 18 December.
He added: "That was on [the] Saturday and the strike was on the Monday, the 20th.
"So people who say that they haven't had a collection for four weeks, with the best will in the world, it's not right."
'Held to ransom'
Council binmen began working to rule on 22 December as part of a long-running pay dispute.
Council refuse collectors will only work half their eight-hour shifts on 13 and 14 January, the GMB union has said.
Mr Tilsley said: "By the weekend, and that's Sunday not Friday, we hope that everybody in Birmingham will have had a collection of rubbish.
"We hope to clear the backlog by Sunday evening and don't forget we've got a work to rule and it's a go slow as well, so the regular crews aren't picking up what they would normally pick up."
About 480 council staff are involved in the dispute over pay which has arisen from the legal duty of councils across the country to ensure equality in men's and women's pay rates.
The GMB union has said the pay review meant staff such as refuse workers, garage staff and road sweepers would lose about £4,000 a year.
Mr Tilsley said it was "up to" that figure.
He added: "The loaders are still being paid £20,000, the drivers are still being paid £26,000 with shift allowances on top and overtime as well.
"So I would put it to the public that we're being held to ransom, a city of a million people being held to ransom at the moment by less than 500 people."
Gerard Coyne, a Unite regional secretary, has said any changes to the way members are paid is breach of contract and said the union believed the council was bullying workers.
"Unite will defend its members and pursue the council legally if necessary," he said.