Birmingham bin workers announce strike dates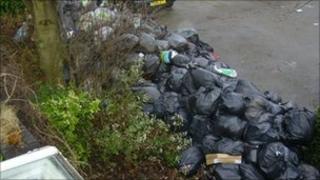 Unions representing bin collectors in Birmingham have announced two half days of strike action.
Some roads in the city have not had rubbish collected for several weeks as a result of industrial action, severe weather and the Christmas break.
Council refuse collectors will only work half their eight-hour shifts on 13 and 14 January, the GMB union said.
Council binmen began working to rule on 22 December as part of a long-running pay dispute.
Piles of uncollected bin bags have led to concerns from residents about public health. A care home in Handsworth has not had its clinical waste collected for about a month and 47 bags of human waste and soiled incontinence pads have been sitting in the street waiting to be collected.
'Tackle the backlog'
The city council said a meeting with unions aimed at resolving the dispute would still go ahead on Thursday.
About 480 council staff are involved in the dispute over pay which has arisen from the legal duty of councils across the country to ensure equality in men's and women's pay rates.
The GMB union said the pay review meant staff such as refuse workers, garage staff and road sweepers would lose about £4,000 a year.
Gerard Coyne, a Unite regional secretary, said any changes to the way members are paid is breach of contract and said the union believed the council was bullying workers.
"Unite will defend its members and pursue the council legally if necessary," he said.
The council said scheduled collections had resumed although a work to rule situation was continuing.
"Under the circumstances they have sufficient time to complete scheduled collections," a spokesman said.
"This means 80 crews have sufficient time to make scheduled collections from 85,000 households each day.
"In the meantime our casual workforce will continue to tackle the backlog."
'Work to rule'
The council says it has held regular meetings with the four unions involved in a bid to solve the dispute.
The Christmas break had seen a 33% increase in waste while refuse collections had also been hit by the snow, it said.
Councillor Timothy Huxtable, cabinet member for transportation and regeneration, said by using its casual workforce of up to 23 crews it hoped to catch up with the existing backlog by the end of the week.
He said: "In the meantime the majority of scheduled collections should still be carried out on the allotted day by the regular crews, operating on a 'work to rule' basis."