Fireman speaks of transplant organ rescue from plane crash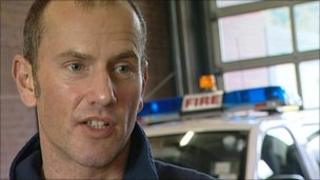 The firefighter who pulled a pilot to safety and rescued a transplant organ after a plane crash at Birmingham Airport has spoken of his pride at the successful rescue mission.
Lead firefighter Nick Jordan, from the airport's fire and rescue service, forced his way into the mangled Cessna plane after it crashed and caught fire in foggy conditions on Friday 19 November.
The flight from Belfast was carrying a liver when it crash landed.
The organ was recovered by Mr Jordan from inside the plane and was safely delivered to hospital in Birmingham.
The transplant operation went ahead successfully.
Speaking for the first time since the incident, Mr Jordan said: "I've gone over it and over it and over it, waking up at night and thinking about it.
"Luckily for us, everything came out well. Both guys [the pilot and co-pilot] came off alive and the liver, and the transplant, was an added bonus.
He added: "We're proud as a Watch. It's something we are trained to do.
"We don't very often get a chance to do it, thankfully."
Thick smoke made it impossible to see inside the Cessna, he said.
"It is worst-case scenario. It's the ultimate thing for us. The plane's on fire, there's somebody trapped inside, and we can't see anything inside the aircraft," he said.
Donor box
When firefighters arrived at the scene of the crash, the plane's first officer had already escaped from the wreckage.
"I ran to the first officer to ask if there was anyone else inside," he said.
"He said: 'There's a donor' and I said 'what do you mean - a donor?'
"He said: 'It's a donor box' and I said: 'Right is there anyone else inside?' and he said: 'Yes the pilot'.
"So I felt around to see if I could make contact with the pilot and managed to put my hand on his head and just said: 'Fire service, we'll get you out'."
He had to withdraw from the aircraft to alert colleagues to the zero visibility.
"We then got back into the aircraft and the pilot must have managed to free himself.
"He managed to get between the two seats and we pulled him out of the door," the firefighter said.
"It seemed like 25 minutes, half an hour, but it wasn't.
"Apparently, going through it all afterwards, it was about seven minutes from the moment we got the call to getting everyone off the aircraft and putting all the fires out."
Investigations continue into the crash, which closed the airport for nearly 24 hours.
See more on this story on Inside Out West Midlands on BBC 1 at 1930 GMT.