Birmingham 'spy' cameras 'to be removed', says police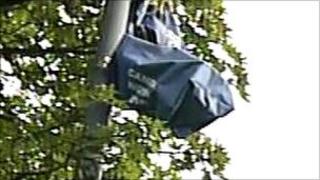 More than 200 so-called "spy" cameras put up in largely Muslim areas of Birmingham will be removed.
West Midlands Police Authority said Project Champion will be withdrawn and all cameras and poles removed at an estimated cost of £630,000.
The cameras, some of which were hidden, were paid for with £3m of government money earmarked for tackling terrorism.
The decision was rubber-stamped at a routine authority meeting some weeks after the force said they should go.
'Lack of consultation'
They were erected in the Washwood Heath and Sparkbrook areas of the city and members of the community said they were angry about a lack of consultation.
A recent independent report into the project was highly critical of the scheme and the police.
The chief constable of West Midlands Police, Chris Sims, said last month at the last authority meeting that he agreed the cameras should be removed.
All the hidden cameras were removed some months ago and the remainder that were clearly in view were covered with bags.
The police have made assurances that none of them have ever been switched on.
It is not known when the poles and remaining cameras will start to be removed following the authority's approval.