Fans in riot at Birmingham football derby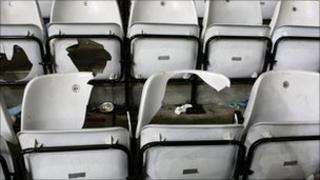 Fourteen people were treated in hospital after violence at the end of Birmingham City's Carling Cup game at home to local rivals Aston Villa.
Five arrests were made after hundreds of fans invaded the pitch, ripped and hurled seating and threw flares.
The FA is investigating the trouble, hours before the vote to decide if England will host the 2018 World Cup.
Condemning the trouble, an FA spokesman called on the clubs to take action against any offenders identified.
A pub outside Birmingham's St Andrew's ground and parked cars were also vandalised following the quarter-final game, which Birmingham won 2-1.
Birmingham manager Alex McLeish said it threatened to bring English football "back to the Dark Ages".
But he said he did not think it would affect the World Cup vote.
Actions 'condemned'
He told Sky Sports 1: "I don't think that will affect the World Cup bid, I'm sure that's already decided, and let's hope England gets it because it deserves it.
"It doesn't look good though, when you see fans running on the pitch like that and carrying on. It takes us back to the Dark Ages."
A Football Association spokesman said: "We wholly condemn the actions of any individuals who have been involved in the scenes of disorder at St Andrew's this evening.
"The FA abhors acts of violent behaviour and we urge the clubs and authorities to identify any individuals involved in disorder, and impose the stiffest available sanctions, including banning orders.
"The FA will fully investigate the matter in conjunction with the appropriate authorities.
"The whole of English football has worked hard to eradicate scenes of disorder from our game, with Home Office figures this week showing a significant drop in arrests at the many thousands of football matches held every week, the majority of which still pass trouble free."
A West Midlands Police spokesman said: "Five people have been arrested following sporadic outbursts of disorder at the Birmingham derby yesterday. Officers worked with club stewards to quickly clear the stadium after a number of fans gained access to the pitch and threw missiles.
"Others endured freezing conditions to disperse crowds outside the stadium. Fourteen people, including four police officers, received minor injuries which required hospital treatment. Two police dogs were also injured after they were struck by missiles."
Supt Steve Graham, who was in charge of policing, said: "This incident must have been very frightening for the vast majority of spectators who enjoyed the match and did not cause any problems.
"Unfortunately a visible minority used the match as an excuse to cause trouble. I'm sure that football fans everywhere will join with me in condemning the illegal actions of those who have brought shame on themselves, their clubs and the city."
The last time Birmingham City and Aston Villa were allowed to play each other under floodlights was seven years ago.
Following clashes between supporters during the 2002-03 season, West Midlands police insisted all future derbies be played on a Sunday lunchtime.
The Carling Cup draw led to that rule being waived for this game.
An earlier version of this story reported that home fans had been responsible for ripping up seating. This was reported in good faith based on information from correspondents at the game. The story was later clarified, taking out the reference to any particular set of fans.