'Criminal' Birmingham car-clamper jailed for four years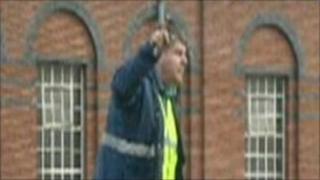 A member of a "criminal" car-clamping company which operated in Birmingham has been jailed for four years.
The city's crown court heard Gary Southall, 49, of Moseley, extorted up to £500,000 from motorists. Two others from the firm were also jailed.
At a previous hearing, he and three more members of the firm pleaded guilty to conspiracy to defraud.
Earlier this year Birmingham City Council refused £1,300 in pennies with which Southall tried to pay a fine.
Gary Southall's brother Wayne, 41, of Tyseley Lane, Tyseley, was given two years while his girlfriend, Victoria Charlton, of Heather Dale, Moseley, was given a suspended 12-month jail sentence and ordered to do 200 hours of community service.
Another member of the firm, Philip Bennett, 34, of College Road, Saltley, was jailed for 18 months.
The council had fined Gary Southall for clamping vehicles without providing his business contact details on receipts to motorists.
Birmingham Crown Court heard how cars which had not been clamped were parked as "traps" to entice people to leave vehicles in areas patrolled by the National Parking Control.
A £200 charge was almost always levied to cancel tow-trucks which had not been called, alongside a standard £125 release fee, and which had to be paid in cash, prosecutors told the court.
Birmingham Trading Standards began an inquiry after more than 300 drivers complained about clampers operating in the Jewellery Quarter and Digbeth areas.
Judge Robert Juckes said clamping cars was not unlawful but the way the defendants operated was "criminal".
"Again and again in this case, the victims say they looked for signs and they couldn't see them," he said.
"There was a real element of menace involved.
"This kind of operation has been a running sore in this city for many years, and in other cities as well, and it plainly calls for sentences that stamp on the practice."
The firm operated for an estimated two years.