Birmingham's Mailbox could be sold in New year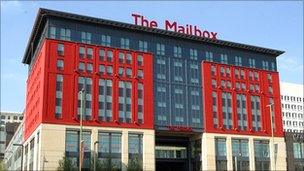 Birmingham city centre shopping complex The Mailbox is being put up for sale in the New Year.
The centre includes BBC Birmingham, restaurants, residential apartments and office space. It is being marketed as the "UK's largest mixed use building."
Mailbox director Alan Chatham said the firm was now working on a planning application for the city centre's Post & Mail building.
Mr Chatham said the sale was dependent on appropriate market conditions.
"There is a great deal of demand for well-cash generative properties, but very few are actually coming to market.
"Those that have, have generally achieved excellent prices, as illustrated by the sale of properties at Brindley Place earlier this year," he said.
Related Internet Links
The BBC is not responsible for the content of external sites.