Police talks continue with man on Birmingham bridge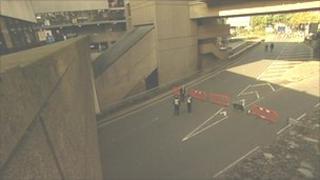 Police are negotiating with a man standing on railings on a bridge after being called more than 24 hours ago.
Police went to a bridge above Paradise Circus, near Birmingham's central library, about 1555 BST on Wednesday.
Police said they had no idea how long it could be before they could bring the situation to a conclusion.
Chf Insp Sean Russell said: "The man is an extremely vulnerable location and state of mind and it is everyone's interest to try to talk him down."
There have been long delays for drivers on all approaches to the Paradise Circus junction.
There were also major problems on the Aston Expressway going back to Spaghetti Junction.
'Continued patience'
Chf Insp Russell, from West Midlands Police, said there had been significant disruption to traffic but asked people to continue to avoid the area if possible.
Roads have been sealed off in order to prevent an accident.
The officer said they wanted to bring the man down safely and ensure members of the public remained safe too.
"We fully appreciate the disruption and inconvenience this has caused to commuters and we ask them for their continuing patience and understanding," he said.
"We need to do what we can to ensure that this operation ends as safely as possible."
Paradise Circus from Great Charles Street Queensway and Queensway Tunnel at Newhall Street were closed. Paradise Forum was shut to pedestrians.
Earlier, Ch Insp Russell, said specialist negotiators had been talking to the man throughout the night.