Birmingham council denies city's asset sale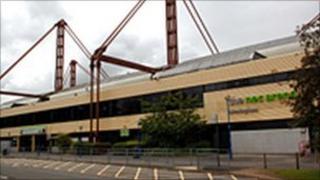 Comments about Birmingham assets such as the NEC being sold to investors from the Middle East have been taken out of context, the council's leader has said.
Mike Whitby spoke after being quoted as saying he would allow sovereign wealth funds to be in partnerships with the city's assets.
Mr Whitby said he had always been clear that the council was not in the business of selling off key resources.
There will always be a need to examine options, he added.
Mr Whitby, the Conservative group leader, said it was true that the council had worked with investors from the Middle East to find funds for projects which had stalled.
"Our direct links have already led to considerable direct investment, such as the £190m Beorma scheme," he said.
The Beorma Quarter is a development close to the Bullring, one of the city's shopping centres.
Mr Whitby added he had also spoken for the need for sensible partnerships, such as New Street Station development with Network Rail.
"I have always been clear that as custodians of the assets of the people of Birmingham we are not in the business of selling key resources, such as the NEC, Symphony Hall and Airport," he said.
"The NEC is one of the regions most exciting business, and the management team has created a number of successful partnerships in recent years, bringing in international names like LG.
"There will, of course, always be a need to continually examine all the options for maximising the NEC's performance and economic impact in the future."
The NEC is the National Exhibition Centre, located just outside the city.