MG Rover link with £66m Bournville College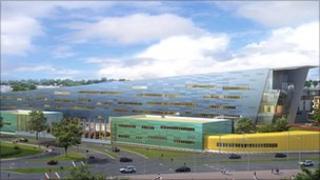 Former Rover workers are to sign a steel beam which will form part of a £66m college campus on the site of the old Longbridge plant.
Bournville College, due to be completed in September 2011, is part of a £1bn regeneration of Longbridge and the former MG Rover works.
MG Rover collapsed in 2005 with the loss of 6,000 jobs.
Seven former workers will sign the steel frame which will be later built around and marked with a plaque.
Alam Aganovic, assistant principal of marketing and business planning at the college said the workers have spanned several decades at the factory.
'Open up rivers'
The frame will be in the hair and beauty department "where their signatures will always remain", she added.
Incorporating the college's existing three buildings, the new six-storey complex will be able to cater for 15,000 students.
When plans were first revealed for the Longbridge redevelopment in 2008, it was said to be one of the biggest redevelopment projects in the UK at the time.
Three parks will be created as part of the proposals and the long-hidden rivers Rae and Arrow opened up, developers have said.
It is part of the Longbridge Area Action Plan, which is expected to help create 10,000 new jobs over the next 15 years.
MG Rover went into administration in April 2005 and Shanghai Automotive Industry Corporation (SAIC) bought much of the company's intellectual property.
Chinese rival Nanjing Automobile Group acquired what was left of the group before the two firms merged in 2007 and became MG Motor UK.
In June, a £5m design studio and technical centre for MG models opened on the site employing 300 designers and engineers.
The MGTF sports car is already built there and another model is set to later this year, the firm has said.