Meriden travellers row heads to Europe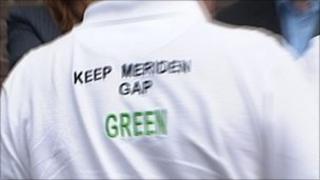 Residents who have manned a 24-hour vigil at a travellers site in the West Midlands since April have taken their campaign to Europe.
About 30 campaigners have travelled to the European Parliament in Strasbourg in protest at a group of travellers living on green belt land in Meriden.
In July, Solihull Council rejected an application by the travellers to develop the land, which they own.
West Midlands Euro MP Nikki Sinclaire has joined the group in Strasbourg.
The travellers started developing the land on 30 April but stopped when residents - who have since started a group called Residents Against Inappropriate Development (RAID) - began a 24-hour picket.
'Private life breached'
A spokesman for RAID said the members of the group will spend five days in Strasbourg and hold demonstrations outside European Court of Human Rights.
"We feel it's a breach of our human rights and the balance of rights is with the travelling community so that's why we've gone to Strasbourg," he said.
The trip has been paid for by the individuals themselves as well using funding from the European Parliament which is available to anyone wanting to visit the parliament, he added.
Ms Sinclaire said there did not seem to be any balance regarding the rights of those affected by the development.
"It is obvious to everyone that in this instance the settled community of Meriden has had its right to a private and family life fundamentally breached by this unethical attempt at development," she said.
The travellers applied for 10 permanent pitches on a field in Eaves Green Lane for caravans, parking and a single storey utility building.
But the council said it broke green belt regulations and had inadequate traffic access.
The travellers have since lodged an appeal against the ruling.