'Miracle cure' deacon set for Pope visit to Birmingham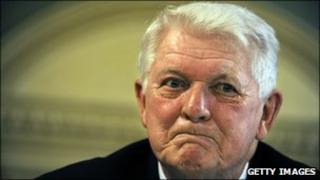 The deacon whose recovery from a spinal disorder paved the way for Cardinal John Henry Newman's beatification is to fly to Britain for the Pope's visit.
Jack Sullivan, of the archdiocese of Boston, Massachusetts, got better after praying to the 19th Century cardinal - with the Vatican ruling it a miracle.
The American will play a key role in the Mass in Birmingham on Sunday where the Pope will beatify Cardinal Newman.
About 55,000 people are expected to attend the service in Cofton Park.
Mr Sullivan's recovery in 2001 was last year confirmed by Pope Benedict as miraculous after eight years of investigation by a Vatican panel of medical experts.
'Utter amazement'
This cleared the way for Cardinal Newman to be beatified.
Mr Sullivan, 71, has described the moment the "agony" of his spinal condition left him and he was able to walk, to the "utter amazement" of medical staff.
He said: "I said, 'Please Cardinal Newman, help me to walk, so that I can return to classes and be ordained' (as a deacon).
"Suddenly, I felt a tremendous sense of heat, very, very warm and a tingling feeling all over my entire body. It was very strong and lasted for a long time."
Critics' view
Mr Sullivan will be one of four deacons to proclaim the Gospel at the beatification Mass, which will be attended by cardinals, bishops and more than 1,000 priests.
A Boston doctor, orthopaedic surgeon Dr Robert Banco, who is a Catholic, has testified the way Mr Sullivan had recovered was "unbelievable, 100%, totally remarkable... I have never seen a healing process occur so quickly and completely."
Critics say miracles have no place in the world of modern medicine, and are more likely the result of the placebo effect, or wishful thinking, than divine intervention.
The beatification ceremony takes Cardinal Newman one step closer to becoming a saint, with a second miracle required for his canonisation.
It has been reported that Vatican officials are investigating a second miracle connected to Cardinal Newman.
If it is confirmed, he would become England's first non-martyred saint since before the Reformation.