Pope's visit: historic event or one to avoid?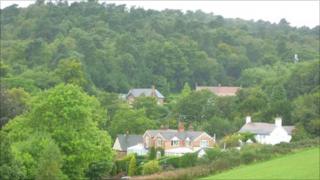 As the barriers go up around Cofton Park in preparation for the Papal visit, those living inside the security cordon are awaiting the arrival of about 70,000 people for Sunday Mass led by Pope Benedict XVI.
Roads around the Birmingham park will be closed off from 1800 BST on Saturday until 2000 BST the next day and residents will be required to carry vehicle passes as well as proof of identity and address with them if they wish to leave their houses.
"We must be the safest place in the Midlands right now, there are so many police around here," said Lickey Road resident Brenda Darwood.
"One helicopter was hovering so low over the tree line in my garden, I thought mate, if you come any closer you'll be in my house and joining me on the sofa."
National Express West Midlands has warned customers to expect temporary road closures at short notice for security reasons as the Pope travels through the city and has asked passengers to be patient if their route is unexpectedly diverted.
Cadbury's worker Alan Evans from Rednall said the road closures would make it hard for him getting to work on Sunday.
"The roads are going to be a nightmare with all the security checks. I think it's a lot of trouble and expense, there wouldn't be all this disruption for the Queen and she's our head of state, so why are we doing this for him?"
Lickey Road newsagent David Fenton from Bromsgrove said the restrictions were a nuisance but there had been other benefits.
He said: "The good thing at least is the whole place has been tidied up. Litter has been cleared, the lawns have been cut three times and the street lamps have been painted. We've had a kiss of life, it's been great.
"The Pope is coming so it is being done now. I see nothing wrong with that and at least we get to enjoy it afterwards.
"Everybody's talking about it. It's a once in a lifetime experience. It's got people very excited one way or another."
However, Mary Hewson from Lickey Road said she was worried about the £1.5m cost of the UK visit.
She said: "I'm not a Catholic, I'm Church of England and I couldn't do anything without my faith, but I object to the cost of this event and the inconvenience."
Mrs Hewson said she thought Coventry Airport was the ideal place for the Pope to lead Mass from a security point of view, rather than in a park beside a residential area.
She said the Pope was an obvious target for discontent because of public anger at the scale and handling of child sex abuse by Catholic clergy and recent calls by the leader of a Florida church to burn the Koran, which she feared could encourage a reprisal attack. For its part the cabinet office has said security for the papal visit is of paramount importance and it is confident in its security arrangements for all the UK events.
Mrs Hewson's neighbour Brenda Darwood said she did not share her friend's qualms and had even allowed her eight-year-old grandson David to come and stay so that he could soak up the atmosphere.
"He is desperate to be able to tell his school friends that he was here when the Pope came to Cofton Park," she said.
Some neighbours who overlook the park said they were impressed with the event's organisation and felt they had been kept well informed.
John Heath of Groveley Lane said: "It all seems to be taken care of. We've had lots of leaflets and maps, and there were meetings in the village hall.
"There's so much unhappiness in the world today, if this event makes 70,000 people happy for one day, then that's got to be a good thing."