Birmingham Airport warning over Pope visit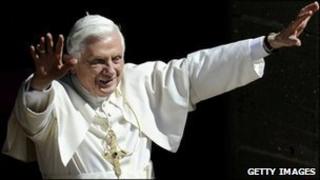 People hoping to see the Pope leaving the UK at the end of his four-day visit have been urged not to go to Birmingham Airport, the location of his departure.
The Pope will beatify Cardinal John Henry Newman during a special Mass in Cofton Park in the city on Sunday.
It is the first Papal visit to the UK since 1982. Pope Benedict XVI will visit London and Glasgow as well.
Airport officials said his departure, after the mass, would be away from the public in a restricted zone.
It was announced last week that people who do not have the required tickets to see the Pope in Cofton Park will be able to see him in the Popemobile along a stretch of Hagley Road.
'Avoid disappointment'
Letters are being sent to residents who will be affected by traffic restrictions and road closures caused by the Pope's visit.
John Morris, from Birmingham Airport, warned passengers using the airport on Sunday to allow extra time in light of the Pope's departure that day.
"To avoid disappointment, we strongly advise people wishing to see the Pope not to come to the airport as the departure event will take place in a restricted zone, away from all public areas," he said.
"Due to the impact this visit may have on local roads, we also encourage anyone travelling from Birmingham Airport in the afternoon of Sunday 19 September to leave more time for their journey and to expect to see a more visible police presence on site."