Pope to be driven through Birmingham in Popemobile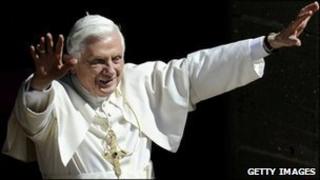 More people are to be given a chance to see Pope Benedict XVI during his visit to Birmingham later this month.
The Pope will beatify Cardinal John Henry Newman during a special Mass in Cofton Park on 19 September, with only special pass-holders able to attend.
But police and the city council have announced the Pope will travel in the Popemobile along part of Hagley Road to give another opportunity to see him.
West Midlands Police said letters would go to people living nearby next week.
'Exemplary priestly life'
They said Councillor Alan Rudge, cabinet member lead on the Papal visit, would be sending out letters next week to residents and firms in the affected area outlining the Popemobile plans in more detail.
Ten thousand letters have been sent to residents living near Cofton Park explaining traffic restrictions and road closures.
Cardinal Newman, who founded Birmingham Oratory and was known for his work with poor people, died in 1890.
The Pope has said of him: "This truly great Englishman lived an exemplary priestly life and through extensive writings made a lasting contribution to church and society, both in his native land and in many other parts of the world."
The Pope will be in the UK between 16 and 19 September in what will be the first Papal visit to the UK since that of John Paul II in 1982.