Birmingham Women's Hospital £7m neonatal unit opens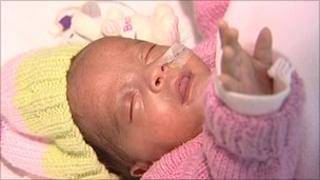 Birmingham Women's Hospital has undergone a £7m refurbishment of its neonatal unit and is accepting its first patients.
It has taken two years to build and includes quiet flooring and inbuilt computers in the intensive care cots.
Initially the unit will have 34 cots but there is space for up to 50.
More than 800 babies are treated by the unit every year and demand is increasing, the hospital trust said.
Neonatal nurse Michelle Emery said: "There's a great deal of difference between nursing a 22-week-old baby and a baby that is full term and we need a special unit to do that."