Birmingham meeting held over Pakistan flood aid cash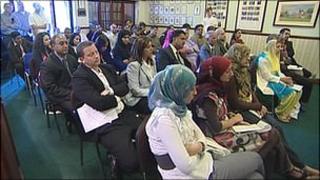 Midlands people have been reassured by a leading politician that money to help the Pakistan relief effort is going directly to those affected.
International Development Secretary Andrew Mitchell spoke at a BBC WM debate in Birmingham on the flooding which has killed 1,600 people.
Members of the city's Pakistani community were in Moseley to listen to the Sutton Coldfield MP.
He said money was going straight to ordinary people.
Speaking at Attock Cricket Club, Mr Mitchell was asked if cash was heading to the right people.
He said: "They [people] can have confidence this money is going directly to the people who are affected.
"I say that because, in Britain, we monitor very carefully the way in which hard-pressed taxpayers' money is being deployed in Pakistan.
"The announcement that the deputy prime minister made when he was in Pakistan.. about the latest tranche of money that we have provided, explained that that money was going through leading British NGOs and charities.
"It would provide specific shelter and support, particularly in terms of health and nutrition and sanitation, clean water, latrines and so forth."