Two injured in 'terrifying' Newbury gas explosion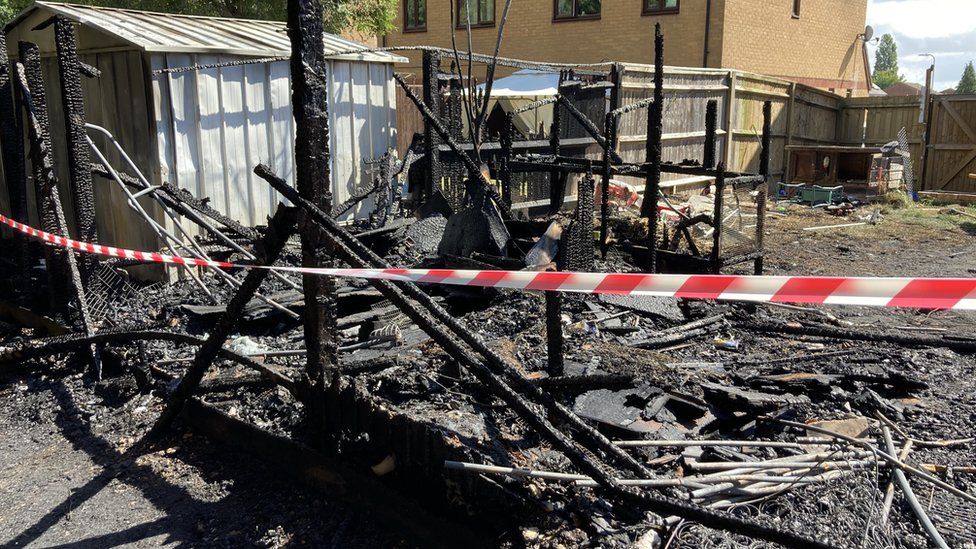 Two people have been injured in a "terrifying" fire and gas explosion that made buildings shake and forced the evacuation of several homes.
Crews were called to the blaze, which started in the garden of a property in Bodin Gardens, Newbury, Berkshire, at about 01:15 BST.
The fire spread to three nearby gardens.
Local residents said there was a "really loud bang" and flames "higher than the houses".
Paramedics treated two people for their injuries at the scene before taking them to hospital. Further details of their injuries is not known.
Royal Berkshire Fire and Rescue Service (RBFRS) said by the time crews arrived a gas cylinder had already exploded.
They worked to extinguish the fire and made two other gas cylinders safe, it added.
Abigail Raymond lives in a nearby block of flats and was woken by a "metallic scraping" noise at about the same time the fire started.
"I got out of bed and the second I opened my curtains the explosion happened," she said.
"I'm pretty sure it shook the entire building, I could feel it shake, you could see the flames they must have been 20 or 30 metres high," she added.
Julie McKinnon, who lives three doors away from the home where the blaze started, said: "My son was outside and ran in and said there was a big fire, and I came out and there was a big explosion.
"We were told by firefighters to move out of the house as it went down the back alleyway - the flames were higher than the houses.
"It was terrifying, my son was crying. Debris flew into my garden and I hosed the shed roof down as a bit of burning wood landed on the roof.
"It was a really loud bang. I've heard people down the end of the estate heard it."
Another local resident told the BBC the building where he lives shook and described the flames being "as high as the trees".
Related Internet Links
The BBC is not responsible for the content of external sites.