Dolls from Nazi concentration camp sell for £5.6k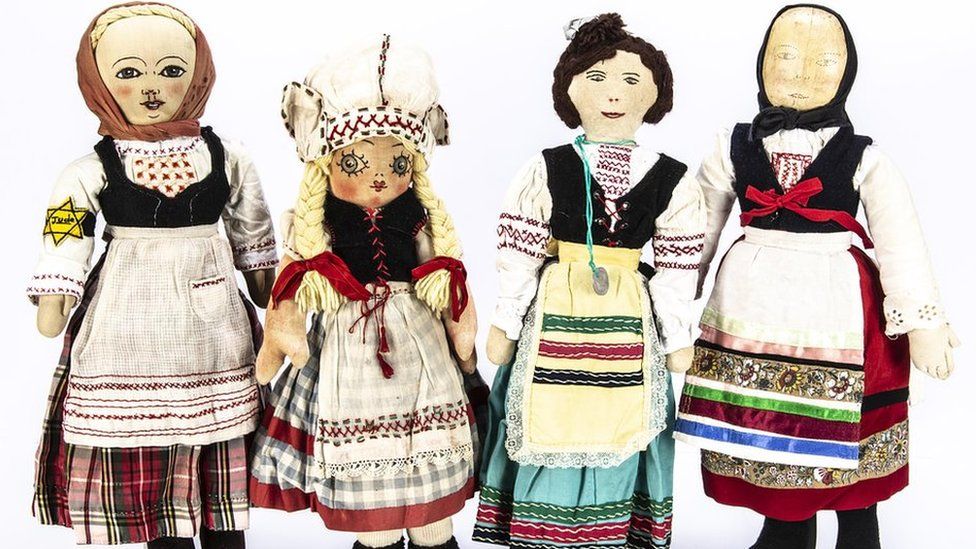 Four dolls made to mark the liberation of a Nazi concentration camp in 1945 have sold at auction for £5,625.
The Red Cross cloth dolls were made by Jewish prisoners after the Allies liberated the Bergen-Belsen camp in World War Two.
They were sold at auction in Newbury, Berkshire, along with a Victorian doll's house which sold for £54,560.
The dolls belonged to a Birmingham collector who had amassed more than 500 antique dolls over 70 years.
The concentration camp dolls were made by Polish prisoners of war who were nursed back to health by Red Cross teams after the German camp was liberated, Special Auction Services said.
Women and children were given scraps of cloth and made this type of doll as they were slowly reintroduced to food, the auction house added.
Six of the dolls were gifted to Red Cross nurses, one of whom took them to the vendor's grandmother in 1953, who ran Birmingham's Dolls' Hospital.
The vendor later inherited her grandmother's doll collection.
The auction house said the dolls had rarely been seen in public, apart from a tour of England by the Women's Institute in the 1950s, and to show Anne Frank's father in the late 1970s.
The dolls were bought for a German toy museum.
The Victorian doll's house, which sold for well beyond its estimated £15,000 and came with original furnishings and decoration, had belonged to Katherine Jeffray who died in 1927.
It had appeared on the BBC's Antiques Road Show programme and had been featured in magazines.
Related Internet Links
The BBC is not responsible for the content of external sites.